The Global Research Alliance is a thematic network of higher education research institutions from different countries, composed of highly qualified researchers. The initiative is supported by the Capes-Print Project to form global research alliances, with the objective of establishing a strategic plan for the internationalization of Unesp. In addition, the project aims to strengthen collaboration in research, teaching and community service activities, with a focus on the United Nations (UN) Sustainable Development Goals (SDGs)
This Global Research Alliance on Sustainable Smart Farming brings together researchers from six universities located in South Africa, Australia, Brazil, the United States, France and England with the aim of finding technological solutions to assist agricultural development, streamlining production. In addition to strengthening collaboration with international researchers to promote joint academic and research programs, the objectives of this GRA are:
– Improvement of sensory technologies to make harvesters more efficient;
– Development of new machinable forestry equipment for silvicultural activities;
– Development of yield prediction models based on data from the atmosphere-plant-soil system;
– Development of smart monitoring devices to support pest prediction and control models decision making;
– Use of images collected from multiple sensors with multiple multi-temporal, multi-resolution and multiplatform resolutions;
– Capture of information related to increased productivity with sustainability and added economic value in order to integrate and evaluate farm management processes;
– Development of new materials to ensure the slow release of fertilizers and biopesticides;
---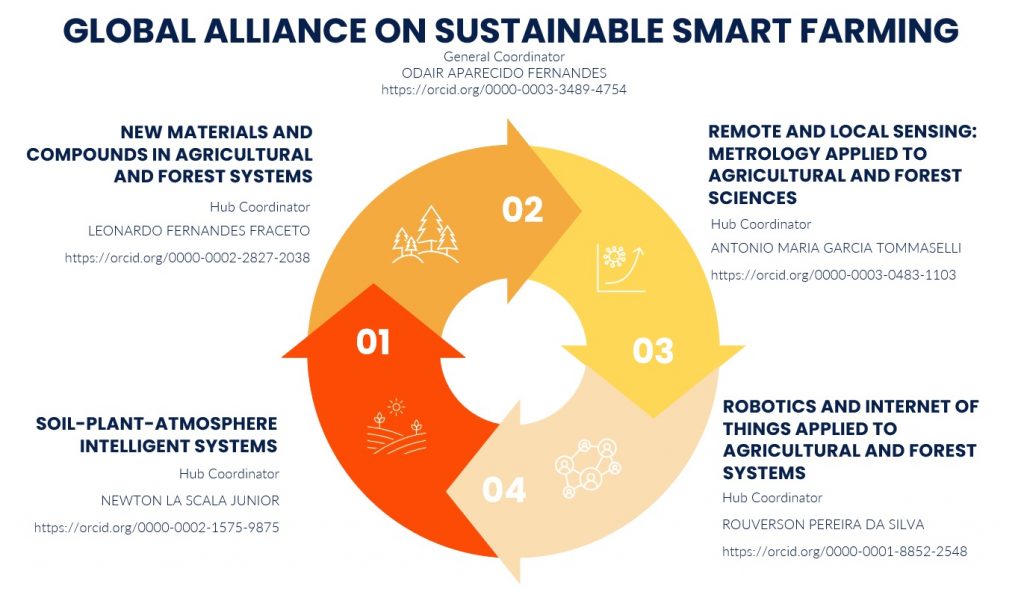 Soil-Plant-Atmosphere Intelligent Systems: methods and modeling will be developed to optimize the need for inputs and irrigation as plant development depends directly on soil and atmosphere components.
New materials and compounds: With nanotechnology and derivatives compounds, new materials will be created to assist in the slow and controlled release of fertilizers, as well as biopesticides for pest monitoring and control.
Remote and Local Sensing: Remote sensing aims to integrate current remote sensor's data to locally obtained information at farm level (Internet of Things).
Robotics and Internet of Things: technological tools like robots, computer vision and algorithms will be developed for mechanized operations in agriculture and forest systems to optimize processes and support decision making.